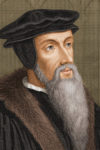 Calvin's first book starts of commenting on epistemological issues relating to how people can know God. General and Special Revelation. Today's quote concerns scripture. Its one of my more memorable quotes from Calvin.
Quote
If true religion is to beam upon us, our principle must be, that it is necessary to begin with heavenly teaching, and that it is impossible for any man to obtain even the minutest portion of right and sound doctrine without being a disciple of Scripture. Hence, the first step in true knowledge is taken, when we reverently embrace the testimony which God has been pleased therein to give of himself. For not only does faith, full and perfect faith, but all correct knowledge of God, originate in obedience. (Calvin, Instit. 1.6.2)
Comment
Calvin continues on the theme of knowledge. I like the idea that Calvin is so comfortable saying the beginning of all our knowledge about God starts with our own obedience. By which I take him to mean reading and listening to scripture and its interpretation.
---
Copyright © Joshua Washington and thescripturesays, 2017. All Rights Reserved.