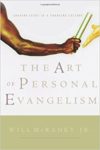 This is a book on evangelism. It was written to address the major foundational and practical issues surrounding personal evangelism with the express intent to reverse the church's decline.
Link: Amazon
Length: 283
Difficulty: Medium
Topic: Topical, Evangelism
Audience: Mainstream Christians
Published: 2003
The book is fairly old and reads more like a textbook because it is reasonably comprehensive and refers to many references to other works.
The author is an American evangelist named Will McRaney. He is the founder of the Ministry Enhancement Group.
This post is one of my book reviews.
Contents
Introduction
1. Understanding God's Involvement
2. Understanding Your Role
3. Understanding Content Essentials: Clarifying the Gospel Message
4. Communication in Evangelism: Making the Gospel Make Sense
5. Communicating Inside Your Context
6. Communicating Christ Outside Your Context
7. Conversation Tips – Conversation Aids in Personal Evangelism
8. Removing Barriers
9. What's Next? Best of the Rest
Appendix 1. Constructing a Testimony
Appendix 2. Gospel Illustrations to Share Your Faith
Appendix 3. Common Objections
Appendix 4. Next-Steps Growth Assignments
Appendix 5. Personal Evangelism Bibliography
Main points
Understanding God's Involvement. McRaney runs through the bible speaking about the themes of salvation and redemption and God's desire to be in relationship with his creations. He shows that it is God who takes the initiative in salvation. He highlights the role of the cross for salvation and the three tenses of salvation. He then describes the Holy Spirit's role in the ministry of the word and conversion.
Understanding Your Role. McRaney is keen not to separate salvation from lordship. In several locations through the book he describes Jesus as our forgiver and leader. He gives some helpful tips for how we should define success in evangelism. He shows a helpful table called Engel's scale which ranks from -10 to 10 where people stand in relation to conversion. He lists several different styles of evangelism and lists what evangelism should and should not include.
Understanding Content Essentials: Clarifying the Gospel Message. Up to this point McRaney has already hinted his understanding of the gospel is more about salvation than it is Christ. In this chapter he removes all doubt. His gospel essentials are salvation, man's problem and need, the role of Christ on the cross, what it means to receive Christ, and following Christ. His gospel is thoroughly soterian. He is wrong on the gospel, which is the chief problem with his book.
Communication in Evangelism: Making the Gospel Make Sense. McRaney gives some helpful tips on our conduct and language. He makes note of several factors to do with culture and contextualisation.
Communicating Inside Your Context. McRaney means out western context. McRaney begins to discuss Modernism and Postmodernism. He defines both and gives some description explaining we are moving from one to the other. McRaney gives several tables comparing and contrasting modernism with postmodernism giving some examples of good questions to ask and bible passages to refer to. The target group[s addressed are family and close friends and coworkers.
Communicating Christ Outside Your Context. McRaney assumes his readers are adults. Those outside this context are children, teens, seniors and people from other cultures. He gives many tips and do's and dont's for reaching these groups. With respect to different cultures he talks about credibility and contextualisation.
Conversation Tips— Conversation Aids in Personal Evangelism. McRaney starts this chapter addressing modern vs postmodern implications for evangelism. Surprisingly he says postmoderns are better suited to hear stories as a starting point rather than propositions. One should lead to the other. Previously evangelism was marked by a focus on individual response rather than community integration. He gives some common sense principles for communicating with postmodern's and directing the conversation into spiritual matters. He talks about key times in a person's life when they are more open to conversion.
Removing Barriers. This chapter I found quite helpful. I identifies internal and external barriers to sharing the gospel. The internal barriers concern us and include fear, relational distance and isolation. He gives some helpful tips on what we can do to reduce these barriers. The external barriers are what our listeners put up. They include intellectual, emotional and practical objections and theological issues. He lists modern and postmodern obstacles to receiving Christ and tips to improve receptivity.
What's Next? Best of the Rest. The last chapter includes gender specific issues for men and women. He talks about how to wait after a rejection which is not often spoken about in evangelism books. Of course he stresses follow-up after conversion. Lastly he gives some pointers about evangelism training in a postmodern context.
Recommendation
The biggest issue I had with the book is that he has a wrong understanding of the gospel. He is a soterian and emphasises salvation more than Christ. This page should give you a heads up on what the gospel is. This is significant, but a lot of what he says is applicable to evangelism regardless.
The book is getting starting to get old and a bit dated. One can tell because he refers to Bill Bright, Evangelism Explosion, Crusaders for Christ and Billy Graham throughout.
The book is quite comprehensive and it's style is more on the fact reporting side. I find it would serve more as a go to book to get a once over on specific issues.
Must have been around one hundred lists and tables. That's a lot of lists! Too many lists. Some charts were helpful, but after a while it became quite repetitive and tedious.
---
Copyright © Joshua Washington and thescripturesays, 2017. All Rights Reserved.
Save
Save