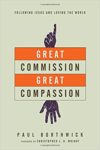 Link: Amazon
Length: 208
Difficulty: Easy-Popular
Topic: Evangelism, Social Justice, Cross-cultural Mission
Audience: Mainstream Christians
Published: 2015
This book reminds me that combining evangelism with other Christian ministries can have a powerful effect on the likelihood not-yet Christians will turn to Christ. This book intertwines evangelism, social justice and cross-cultural mission together. This is a great book on evangelism.
In his own words, Borthwick explains what he hopes to achieve with his readers.
This is my hope in this book: to call us all to a sense of biblical balance. Part one lays the foundation by examining the Great Commission imperatives of Jesus—to go, to preach, to baptize, to make disciples, to witness. Then we consider the Great Compassion, examining biblical teaching on the poor, the disenfranchised, the hurting people of our world, and what God calls us to do. (16)
This post is one of my book reviews.
Contents
Main points
As with several of my other reviews, I will give a brief description of each chapter and give a representative quote.
Introduction: Choices
The western world shows its wealth and comfort in the sheer number of choices available to us. This is in stark contrast to many in the third world who struggle from day to day to survive.
In the pages that follow, we'll examine Scripture and explore ongoing lifestyle issues that will confront us with choices. Some of these choices will be countercultural. Others will be crosscultural. Many will be challenging, and some will be costly. (14)
Part One: Biblical Foundations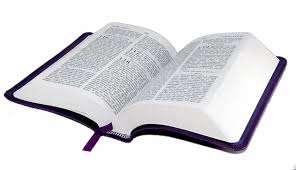 The two parts reveal the overall structure of the book. First its biblical basis and authority. Second, how we should respond to what the scripture says.
Borthwick teaches a class called 'Biblical and Historical Foundations for Global Mission'. He asks his students what are Jesus' parting commands to his disciples. On the whole, he says less than 20% of these students studying to become Christian pastors, youth workers and missionaries know.
1 How Should We Then Live?
Borthwick doesn't immediately answer his question. He will. In this chapter he is still setting us up for the rest of the book. He refers to the commands relating to our vertical relationship with God to those of our horizontal relationships with the world around us. He does this by commenting on Mic 6.6-8; Dt 10.12-13; Lk 10.25-37; Jas 2.14-26 and 1 Jn 2.9-11 bringing out the commands related to how we care for the poor and needy through scripture.
Practice and proclamation are the two hands of the gospel. Christians sometimes try to live a one-handed lifestyle, but a complete Christian lifestyle requires both hands. (25)
2 Commission and Context Living Out Jesus' Final Imperatives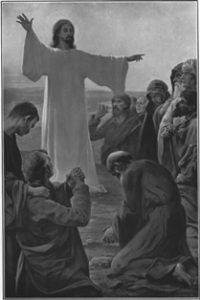 Borthwick now touches upon the parting commands of Jesus which we find at the end of each Gospel. These are Mt 28.18-20; Mk 16.15-18; Lk 24.45-49; Jn 20.21-23 and he also looks at Acts 1.8. I've given a brief treatment of many of these here. Borthwick notes significant reputation of key themes related to evangelism.
We're sent out on a superlative mission by a supreme Lord. All his truth must be proclaimed. All people must have a chance to respond to his love. But don't worry—he's not just the supreme commander, he's also the supreme companion. (33)
3 Five Great Commissions, One by One
In this chapter Borthwick reviews in greater detail the parting commands of Jesus. Matthew: Make Disciples as You Go, Teach and Baptize, Mark: Preach the Good News, Believe and be Saved, Luke-Acts: Witnesses to All Nations, and John: Sent by the Spirit.
Like Matthew, Mark emphasizes the necessity of being incorporated into the church ("believes and is baptized"). Taken in the entire context of Scripture, the correlation of belief with baptism underscores the assumption that true belief will result in identification and association with a Christian community. Baptism does not save, but a person who has put his or her faith in Jesus makes that commitment public to the world. (36)
4 The Great Commission Three Takeaways
Borthwick discusses what our mindset should be. We ought to be living as someone who has been sent into mission for this world.
The world into which God has sent us includes our neighborhoods, our workplaces, our friends and natural contacts, our fellow students, and our families. The person seated next to us on the bus or airplane, the person waiting in the unemployment line with us, or the homeless guy we walk by every day on the way to the office are all those to whom God sends us. Living as a sent person is a mindset: we hear Jesus' voice daily saying, "As the Father has sent me, now I'm sending you." (43)
What this means is that we are now to have a new worldview. We should not leave anyone out of God's purposes. He finishes this chapter with assurance. Jesus is always with us.
5 The Great Compassion Caring for the Disadvantaged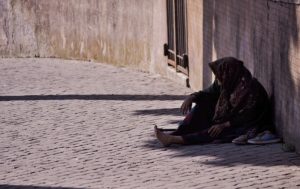 Using Mt 25.31-46 (The Judgment of the Sheep and the Goats) Borthwick discusses the issues involved with looking out for the hungry, the thirsty, strangers, those needing clothes, the sick, and those in Prison. (Note: Borthwick does not attempt to dodge the works based judgment described in this passage as recent Protestant interpreters try to do).
Borthwick reminds us of the value of learning a person's name.
This man represented an apparently hopeless situation, so all we could do was to pass him by. Then I realized something terrible. I didn't even know his name, a sign of his God-given uniqueness, identity and dignity. So on the next visit I stopped to meet him. I learned his name. No more passing him by or just dropping my food coupons. I could now greet him as Bob, my fellow human being, and no longer see him as the fragrant homeless guy in the door jamb. I have not solved his homeless problem, but Bob humanizes homelessness for me. He has a name. (57)
6 The Great Compassion Eight Takeaways
In this chapter Borthwick gives eight recommendations to keep our edge in mission. He says we should be targeted. Know the audience we are working with. He says we should transform our view of others. We are all made in the image of God. Therefore we all have dignity. He encourages us to do something, to live out of love and be deliberate in making time to care. He reminds us to be good Samaritans. And even if we are hurting,, to give out of our pain.
Then he goes on to describe true religion: "Religion that God our Father accepts as pure and faultless is this: to look after orphans and widows in their distress and to keep oneself from being polluted by the world" (James 1:27). Simply put, God evaluates us by our compassion to the underprivileged and by our holiness of character. (72)
Part Two: Lifestyle Imperatives
7 Choose Committing to Kingdom Mission in Our Personal Choices
In this chapter Borthwick discusses Jesus' Kingdom Mission. He says we have many choices ahead and encourages us to keep a long term perspective. Our compassion ought to be permanent. Borthwick in particular reminds us of how important itis to learn peoples names.
First, we need to decide purposely to take our eyes off ourselves. We choose to prioritize our relationship with Jesus and see our lives through the lens of that relationship. … Second, we dedicate ourselves to a lifetime of growth. …

The choices we make are the difference between a temporary trend and a long-term commitment. We need to make the Great Commission, Great Compassion lifestyle permanent. (78f)
8 Learn Developing an Ongoing Posture of Learning and Discovery
This chapter is about continual learning. He has said before we need to learn about the specific audience we intend to reach. Here he speaks about self-image in the New Testament. This is who and what we are. Our place in God's creation.
All of these titles and terms point to one basic truth. We live at the disposal of our Superior. He is the boss; we are the laborers. He is the owner; we are the servants. He has the wealth; we are the stewards. He is the commander; we are the soldiers. God initiates his love through Christ; we are the witnesses. God values our lives so much that he assigns ministry to us. (87)
Borthwick discusses several kinds of learning. Biblical learning (obviously), Historical learning (history of the church and mission), current events learning (know what's happened in the world) and staying current. He gives some practical ideas.
9 Look Opening Our Eyes and Responding to Needs and Opportunities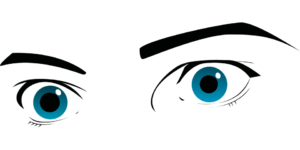 Armed with knowledge Borthwick now encourages us to look around. Look for opportunities and needs at hand. Look for global-local opportunities to serve.
Look at the needs of our western world and that of the most need countries and nations. Look for practical ways to demonstrate the gospel
The gospel demonstrated leads to the gospel proclaimed. It can happen as we look into the needs around us—or the needs of the world.4 Yancey's interview concludes, "Imagine what would happen if we organized ourselves in the neighborhood, in the city, and in the world as people existing for the sake of outsiders. . . . The more we act like Jesus, not beating people down but showing a better way to live, the more outsiders will look back and say, 'Those Christians are different.'" (104)
In practice he tells us to look for openings for spiritual conversations. To try and be aware of what's next in God's priorities.
He says 'Jesus stinks'. By this he means we ought to be willing to take on the smells of the people we are reaching.
10 Pray Remembering That We Have Access to the Throne Room of God Almighty
In western culture, we often forget the fact that, in the words I've used to summarize the exhortations of E. M. Bounds, "Prayer is the ministry." We pray before ministry, as we plan for ministry and for results in ministry, but we seldom pray as if prayer is the ministry. And yet realistically, especially as we look at global ministry or ministry in cultures that neither our churches nor we will ever encounter, prayer is our primary ministry. (105)
Borthwick shares what it means to pray compassionately. He gives several reasons why we should pray. We pray because the task is too big for us. We pray because God grants boldness as we pray. We pray to influence the nation's of the world. We pray for the nation's and peoples who are not as well off as we are. Compassionate prayer.
11 Welcome and Celebrate Looking for Ways to Welcome the Stranger
Borthwick tells the story of Acts 10 – Peter's visions and the gospel to the Gentiles.
Acts 10 is the story of two conversions. Will Willimon asks, "Is this the story of the conversion of a gentile or the conversion of an apostle?" He then answers, "Both Cornelius and Peter need changing if God's mission is to go forward." (124)

Great stuff! He writes about confronting the stereotypes we may have about other people groups. He asks us to step out from our comfort zones and to view the world with God's perspective. God sees Jews and Gentiles. Rich and poor. Coloured and caucasian.
A big theme in this chapter return us to Matthew 25.31-46. Welcoming the stranger. We are welcome others to the table. To have table fellowship with them.
We are to welcome the alien and the stranger. People different and foreign to us. We are to celebrate God's diversity.
12 Simplify and Give Making a Generous Lifestyle a Priority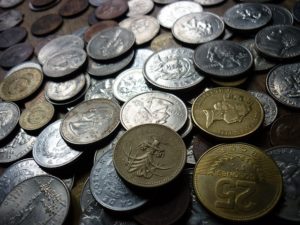 We of the western world live with many possessions. Generally we seek more all the time. This chapter teaches us to live more simply that others may simply live.
He finds a verse in Ezekiel which explains Sodom's primary sin. It Is not sexual immorality.
Ezekiel's prophetic exhortation actually relates to simpler living and generous giving. The sin of Sodom involves lack of physical self-control, humility of spirit and compassion toward the poor—and not sexuality issues (at least not as the starting point): "This was the sin of your sister Sodom: She and her daughters were arrogant, overfed and unconcerned; they did not help the poor and needy" (Ezekiel 16:49). (142)
Using this verse Borthwick gives a few steps toward simpler living. He encourages us to choose to be a giver. I found this chapter challenging.
13 Stand Together Finding Like-Minded People and Advocating for Others
Borthwick gives three biblical examples of Advocacy. Esther advocating for the Jews, Jesus and the woman about to be stoned, Paul and Philemon. Advocacy means defending the rights of others, standing against oppression and using whatever resources and skills we have to assist others in need.
Borthwick encourages us to not to be intimidated by the size of the world's problems. Instead we are to get serious about civil rights, racism, poverty and homelessness.
Finding like-minded people is a good idea.
If I'm in the world (as I'm supposed to be as Jesus' disciple), I get the world "on me." That's why I need to come regularly to the gathering of fellow Christians. Christian fellowship is where I'm supposed to confess my sins and realign my purposes with the purposes of God. I come into the corporate worship of the people of God to get scrubbed up spiritually—so that I can go out as a redeemed, forgiven witness for Jesus Christ. (162)
We should go to church with this mindset.
14 Go Serving Cross Culturally and Leaving Our Comfort Zone
Borthwick reveals in this chapter his understanding of the gospel.
I want to emphasize the "good news" of the gospel—while selectively forgetting the fact that the love of God through Jesus is good news only in contrast to the "bad news" that the holy God exacts a payment for sin.

To stay balanced, I focus on the fact that God sees people as both loved and lost. Without Jesus Christ, we are dead in our trespasses and sins (Romans 3:23; 6:23; Ephesians 2:1-10). But God doesn't leave us there. The holy Judge of sin chooses—because he loves us—to pay the penalty that we miserable offenders deserve. (168)
These statements suggest to me his understanding of the gospel is primarily about salvation. Not about telling the story of Jesus which is how I understand the gospel.
Borthwick gives some general encouragements for mission. God goes before us. Billions of people have no opportunity. We live in a multicultural world.
He finishes this chapter sarcastically, giving six reasons why we should not go on a short term mission. It will change our view of God, our possessions, our perspective on hardship and ethnicity. It will force us to think about heaven. Lastly it will stretch our faith.
Epilogue: Witnessing to All the Senses
Borthwick uses this chapter to give some summary exhortations to conclude his book.
How would Jesus sound? He encourages us to proclaim the gospel and speak the truth in love.
How does Jesus taste? God's people are called to be salt of the earth. That means we function as preservatives, but more importantly as flavour enhancers. We show people what true life is meant to be like.
What does Jesus look like to those outside the faith? We are called to hold out the light in a world of darkness.
What is Jesus' touch in the world? We are called to touch the lives of the poor and needy around us.
How would Jesus smell? We are the aroma of Christ. This will smell good to some and like death to others.
Recommendation
The book is very readable. Full of good stories and anecdotes. It does not give list after list of points and recommendations. Its enjoyable to read.
The best part about this book is that it fired me up again for evangelism. If you are feeling a little lethargic ministry wise, read this book. It will renew your batteries and fire you up for ministry.
I really love how it works together the three themes of evangelism, social justice and cross cultural mission. The book bases it's arguments on scripture.
The only concern I had was his soterian gospel. However I like the other material enough to have no problem recommending it for wide readership.
---
Copyright © Joshua Washington and thescripturesays, 2017. All Rights Reserved.
Save
Save
Save
Save