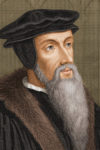 Calvin begins to argue for his understanding of justification. What does it mean to be justified by works? What does it mean to be justified by faith? In this important quote we look at Calvin's understanding and compare it to scripture.
This is part of my series on Calvin's Institutes.
Quote
Lest we should stumble at the very threshold (this we should do were we to begin the discussion without knowing what the subject is), let us first explain the meaning of the expressions.

To be justified in the sight of God,

to be Justified by faith or by works.

[Justified in the sight of God] A man is said to be justified in the sight of God when in the judgment of God he is deemed righteous, and is accepted on account of his righteousness;

for as iniquity is abominable to God, so neither can the sinner find grace in his sight, so far as he is and so long as he is regarded as a sinner. Hence, wherever sin is, there also are the wrath and vengeance of God.

He, on the other hand, is justified who is regarded not as a sinner, but as righteous, and as such stands acquitted at the judgment-seat of God, where all sinners are condemned. As an innocent man, when charged before an impartial judge, who decides according to his innocence, is said to be justified by the judge, as a man is said to be justified by God when, removed from the catalogue of sinners, he has God as the witness and assertor of his righteousness.

[Justified by works] In the same manner, a man will be said to be justified by works, if in his life there can be found a purity and holiness which merits an attestation of righteousness at the throne of God, or if by the perfection of his works he can answer and satisfy the divine justice.

[Justified by faith] On the contrary, a man will be justified by faith when, excluded from the righteousness of works, he by faith lays hold of the righteousness of Christ, and clothed in it appears in the sight of God not as a sinner, but as righteous.

Thus we simply interpret justification, as the acceptance with which God receives us into his favor as if we were righteous; and we say that this justification consists in

the forgiveness of sins and

the imputation of the righteousness of Christ.

(Calvin, Instit. 3.11.2)
Comment
Calvin seeks to outline his understanding of justification. He says a person is deemed righteous and therefore justified on account of his righteousness. He then focuses on sin and says that wherever sin is, there is God's wrath and vengeance. He says when God judges a person their innocence of wrongdoing and sin is determined as well as their righteousness. Those who are innocent of sin and righteous in their deeds will be justified.
He then defines his understanding of what it means to be 'justified by works' and 'justified by faith'.
For Calvin, to be 'justified by works' means there must be a level of purity and holiness which merits attestation at God's throne. He says a person's works have to be perfect in order to satisfy divine justice.
The whole point of Calvin's discussion is that he believes no one is righteous before God because all have sinned. According to him to be justified before God requires sinless and perfect obedience.
Therefore for Calvin, the only way for sinners to be justified, is by faith. Justification by faith (for him) occurs when by faith a person lays hold of Christ's righteousness and becomes clothed in it.
In my opinion Calvin has the Christ's perfect obedience as well as his death on the Cross in mind here (see this book review for further details). Thus sinners are received into God's favour 'as if they were righteous'.
What does the scripture say? Is Calvin's understanding of justification biblical?
Firstly, as I mentioned in a previous post believers still sin. But as I argued in that post Calvin has a wrong understanding of what a 'sinner' is. I believe he is imposing unbiblical understandings of what it means to be righteous and what it means to be a sinner here.
Secondly I note on occasion people are regarded as righteous before God and these passages refer also to their obedience.
22 Noah did this; he did all that God commanded him. 7 Then the Lord said to Noah, "Go into the ark, you and all your household, for I have seen that you are righteous before me in this generation. (Gen 6.22-7.1)

5 In the days of Herod, king of Judea, there was a priest named Zechariah, of the division of Abijah. And he had a wife from the daughters of Aaron, and her name was Elizabeth. 6 And they were both righteous before God, walking blamelessly in all the commandments and statutes of the Lord. (Lk 1.5-6)
Likewise John says those who are righteous make a practice of righteousness.
4 Everyone who makes a practice of sinning also practices lawlessness; sin is lawlessness. 5 You know that he appeared in order to take away sins, and in him there is no sin. 6 No one who abides in him keeps on sinning; no one who keeps on sinning has either seen him or known him. 7 Little children, let no one deceive you. Whoever practices righteousness is righteous, as he is righteous. … 10 By this it is evident who are the children of God, and who are the children of the devil: whoever does not practice righteousness is not of God, nor is the one who does not love his brother. (1 Jn 3.4-7, 10)
I'm not here denying these people sinned. I'm affirming these people make a practice of righteousness.
My point is that, the biblical understanding of righteousness before God, Contra Calvin, is not primarily determined by whether they are sinless and perfect, it's primarily determined by a regular practice of righteousness and assumes the forgiveness of their sins. Both of these are what it means to be blameless (Phil 3.6).
Calvin has imposed on his definition of justification a wrong understanding of sinner and righteous. He has failed to consider how the scripture understands these concepts. Consequently he understands everyone must be a sinner and uses this to shape his understanding of justification by works and faith.
Likewise Calvin seems to ignore these justification texts which explicitly affirm justification is also by a persons words and their works.
33 "Either make the tree good and its fruit good, or make the tree bad and its fruit bad, for the tree is known by its fruit. 34 You brood of vipers! How can you speak good, when you are evil? For out of the abundance of the heart the mouth speaks. 35 The good person out of his good treasure brings forth good, and the evil person out of his evil treasure brings forth evil. 36 I tell you, son the day of judgment people will give account for every careless word they speak, 37 for by your words you will be justified, and by your words you will be condemned." (Mt 12.33-36)

21 Was not Abraham our father justified by works when he offered up his son Isaac on the altar? 22 You see that faith was active along with his works, and faith was completed by his works; 23 and the Scripture was fulfilled that says, "Abraham believed God, and it was counted to him as righteousness"—and he was called a friend of God. 24 You see that a person is justified by works and not by faith alone. 25 And in the same way was not also Rahab the prostitute justified by works when she received the messengers and sent them out by another way? (Jas 2.21-25; cf. Gen 22.12, 15-17)
I've posted on James' use of justification and Calvin's misreading of it here.
(For more references on the righteous being judged and receiving eternal life see Mt 13.36-43; 25.31-46)
I don't mean to deny people are justified by faith (e.g. Rom 10.9-10). However, I think Calvin has misunderstood the context Paul was addressing and the way Paul applies the expression. See my New Perspective arguments here and here.
---
Copyright © Joshua Washington and thescripturesays, 2017. All Rights Reserved.