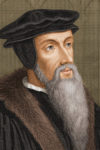 Calvin gives his definition of repentance. His understanding of repentance is that it is an ongoing process whereby a person turns to God, cutting out sin in the power of the Spirit.
This is part of my series on Calvin's Institutes.
Quote
The term repentance is derived in the Hebrew from conversion, or turning again; and in the Greek from a change of mind and purpose; nor is the thing meant inappropriate to both derivations, for it is substantially this, that withdrawing from ourselves we turn to God, and laying aside the old, put on a new mind.

Wherefore, it seems to me, that repentance may be not inappropriately defined thus: A real conversion of our life unto God, proceeding from sincere and serious fear of God; and consisting in the mortification of our flesh and the old man, and the quickening of the Spirit. (Calvin, Instit. 3.3.5)

The second part of our definition is, that repentance proceeds from a sincere fear of God. Before the mind of the sinner can be inclined to repentance, he must be aroused by the thought of divine judgment; but when once the thought that God will one day ascend his tribunal to take an account of all words and actions has taken possession of his mind, it will not allow him to rest, or have one moment's peace, but will perpetually urge him to adopt a different plan of life, that he may be able to stand securely at that judgment-seat. (Calvin, Instit. 3.3.7)
Comment
I've written my own word study on repentance.
For the most part I'm in complete agreement with Calvin's statements. At this point he hasn't acknowledged repentance is a state of being (Acts 11.18; Heb 6.6) which also includes the regular practice of good works (Lk 3.8-9).
I find it interesting to note Calvin finds repentance to be motivated by a fear of God's judgment. As with my study on future judgment and salvation, I would say likewise that ongoing repentance is necessary for salvation. However Calvin will not say this when he discusses justification and the future judgment.
---
Copyright © Joshua Washington and thescripturesays, 2017. All Rights Reserved.