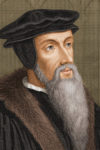 In todays quote from Calvin we learn about the basis for his doctrine of justification by faith vs. justification by works. Calvin does not base his doctrine on what scripture says about judgment. Instead he relies on introspection and conscience. He wants his readers to reflect on how they stand before the perfect and absolute judgment of God.
This is part of my series on Calvin's Institutes.
Quote
Although the perfect truth of the above doctrine [of justification by faith alone] is proved by clear passages of Scripture, yet we cannot clearly see how necessary it is, before we bring distinctly into view the foundations on which the whole discussion ought to rest.

First, then, let us remember that the righteousness which we are considering is not that of a human, but of a heavenly tribunal; and so beware of employing our own little standard to measure the perfection which is to satisfy the justice of God. …

This they do because they reflect not on the righteousness of Christ, which, if they had the slightest perception of it, they would never treat with so much insult. It is certainly undervalued, if not recognised to be so perfect that nothing can be accepted that is not in every respect entire and absolute, and tainted by no impurity; such indeed as never has been, and never will be, found in man. It is easy for any man, within the precincts of the schools, to talk of the sufficiency of works for justification; but when we come into the presence of God there must be a truce to such talk. (Calvin, Instit. 3.12.8)
The next series of brief quotes show where his focus lies.
Hither must we turn our minds if we would inquire to any purpose concerning true righteousness; the question must be: How shall we answer the heavenly Judge when he calls us to account?  (3.12.1)

It is of importance to attend to this distinction; for even could a man satisfy the Law, he could not stand the scrutiny of that righteousness which transcends all our thoughts. (3.12.1)

In short, the whole discussion of this subject will be insipid and frivolous, unless we sit ourselves before the heavenly Judge, and anxious for our acquittal, voluntarily humble ourselves, confessing our nothingness. (3.12.1)

It is easy, indeed, when the comparison is made among men, for every one to plume himself on some quality which others ought not to despise; but when we rise to God, that confidence instantly falls and dies away. (3.12.2)

But what are the feelings of the servants of God, of those who are truly taught by his Spirit? "Enter not into judgment with thy servant; for in thy sight shall no man living be justified," (Ps. 143:2). Another, though in a sense somewhat different, says, "How should man be just with God? If he will contend with him he cannot answer him one of a thousand," (Job 9:2, 3). Here we are plainly told what the righteousness of God is, namely, a righteousness which no human works can satisfy which charges us with a thousand sins, while not one sin can be excused. (3.12.2)

Thus, indeed, it is. Aroused consciences, when they have to do with God, feel this to be the only asylum in which they can breathe safely. For if the stars which shine most brightly by night lose their brightness on the appearance of the sun, what think we will be the case with the highest purity of man when contrasted with the purity of God? (3.12.4)

Those who do not turn their thoughts to this scene may be able for the moment calmly and complacently to rear up a righteousness for themselves; but this the judgment of God will immediately overthrow, (3.12.4)

Those who, as in the presence of God, inquire seriously into the true standard of righteousness, will certainly find that all the works of men, if estimated by their own worth, are nothing but vileness and pollution, that what is commonly deemed justice is with God mere iniquity; what is deemed integrity is pollution; what deemed glory is ignominy.

Let us not decline to descend from this contemplation of the divine perfection, to look into ourselves without flattery or blind self-love. (3.12.4)

To examine ourselves properly, our conscience must be called to the judgment-seat of God. (3.12.5)

And the strictness of the examination ought to be continued until it have completely alarmed us, and in that way prepared us for receiving the grace of Christ. (3.12.5)

If we now inquire in what way the conscience can be quieted as in the view of God, we shall find that the only way is by having righteousness bestowed upon us freely by the gift of God. (3.13.3)

Conscience, when it beholds God, must either have sure peace with his justice, or be beset by the terrors of hell. We gain nothing, therefore, by discoursing of righteousness, unless we hold it to be a righteousness stable enough to support our souls before the tribunal of God. (3.13.3)

5. But why employ a more obscure testimony? Paul uniformly declares that the conscience can have no peace or quiet joy until it is held for certain that we are justified by faith. … Souls cannot have peace until we are fully assured that we are pleasing to God. (3.13.5)
Comment
(Note: I address many of these concerns in my page on future judgment and salvation, including the problem of forgiveness.)
From these two chapters is seems apparent that the foundation for Calvins understanding for justification by faith alone is not scripture. Rather his foundations are peoples 'feelings' and their 'consciences' as he calls his audience to subjectively evaluate how they stand before God.
I note from the start that Calvin compares different standards of God's judgment. He says, 'our own little standard' and compares this to 'the perfection' needed to satisfy God's justice.
Over the course of two chapters Calvin uses the following scriptures to back himself up: Exod 34:7; Deut 27:26; 32:22; Job 4:17-20; 9:2,3,20; 14:5; 15:15,16; Ps 18:27; 130:3; 143.2 Prov 16:2; 21:2; Isa 33:14,15; 7:15; 53:6; 61:1-3; 66:2; Ezek 36:22,32; Zeph 3:11,12; Nahum 1:3; Mt 11:28; 9:13; Luke 16:15; 18:13; 1 Pet 5:5. None of these explicitly address the final judgment or the standard which scripture describes Jesus will use.
Calvin does not consult the various scriptures which refers to the standard of God's judgment. For example;
16 So we have come to know and to believe the love that God has for us. God is love, and whoever abides in love abides in God, and God abides in him. 17 By this is love perfected with us, so that we may have confidence for the day of judgment, because as he is so also are we in this world. (1 Jn 4.16-17)
Jesus has made it clear what he means by abiding in God's love. Believing Jesus is the Christ (1 Jn 4.15) and keeping his commands – loving God and our brothers and sisters (1 Jn 4.7; Jn 15.9-10). So we see from these scriptures what gives us confidence for the day of judgment.
Likewise Jesus says;
26 For as the Father has life in himself, so he has granted the Son also to have life in himself. 27 And he has given him authority to execute judgment, because he is the Son of Man. 28 Do not marvel at this, for an hour is coming when all who are in the tombs will hear his voice 29 and come out, those who have done good to the resurrection of life, and those who have done evil to the resurrection of judgment. (Jn 5.26-29)
Here Jesus says 'those who have done good'.
31 "When the Son of Man comes in his glory, and all the angels with him, then he will sit on his glorious throne. 32 Before him will be gathered all the nations, and he will separate people one from another as a shepherd separates the sheep from the goats. 33 And he will place the sheep on his right, but the goats on the left. 34 Then the King will say to those on his right, 'Come, you who are blessed by my Father, inherit the kingdom prepared for you from the foundation of the world. 35 For I was hungry and you gave me food, I was thirsty and you gave me drink, I was a stranger and you welcomed me, 36 I was naked and you clothed me, I was sick and you visited me, I was in prison and you came to me.' 37 Then the righteous will answer him, saying, 'Lord, when did we see you hungry and feed you, or thirsty and give you drink? 38 And when did we see you a stranger and welcome you, or naked and clothe you? 39 And when did we see you sick or in prison and visit you?' 40 And the King will answer them, 'Truly, I say to you, as you did it to one of the least of these, my brothers you did it to me.' … 46 And these will go away into eternal punishment, but the righteous into eternal life." (Mt 25.31-46)
Here Jesus describes the righteous as those who helped the poor and needy.
6 He will render to each one according to his works: 7 to those who by patience in well-doing seek for glory and honor and immortality, he will give eternal life; 8 but for those who are self-seeking and do not obey the truth, but obey unrighteousness, there will be wrath and fury. 9 There will be tribulation and distress for every human being who does evil, the Jew first and also the Greek, 10 but glory and honor and peace for everyone who does good, the Jew first and also the Greek. 11 For God shows no partiality. (Rom 2.6-11; cf. Gal 6.6-10)
Here Paul describes those who receive life as those who are patient in doing good and seek for glory. None of these passages suggest God's standard for judgment is perfection. Calvin has invented this standard. In his own words, sinless perfection is his 'little standard'.
Calvin then presses his argument relying on his baseball bat doctrine of sin to bludgeon his audiences into submission to his argument. The foundation of gracious justification by faith alone apart from works based on the anxious and introspective conscience and liminality of one who imagines they stand before the judgment seat of God.
He also quotes Ps 143:2 and 1 Cor 4:4-5 which I think are the most relevant to the discussion. Ps 143.2 reads;
2 Enter not into judgment with your servant, for no one living is righteous before you. (Ps 143.2)
But as I have discussed in my series on righteousness this ought to take into account Gen 7.1 and Lk 1.5-6. 1 Cor 4.4-5 actually undermines his argument.
2 Moreover, it is required of stewards that they be found faithful. 3 But with me it is a very small thing that I should be judged by you or by any human court. In fact, I do not even judge myself. 4 For I am not aware of anything against myself, but I am not thereby acquitted [justified]. It is the Lord who judges me. 5 Therefore do not pronounce judgment before the time, before the Lord comes, who will bring to light the things now hidden in darkness and will disclose the purposes of the heart. Then each one will receive his commendation from God. (1 Cor 4.2-5)
Paul is not speaking of a sinners acquittal by faith. Rather if he is found 'faithful' he will be acquitted and receive his commendation from God. Paul's optimism here rejects the idea he thinks God's standard for judgment is sinless perfection.
From these two chapters is seems apparent that the foundation for Calvins understanding for justification by faith alone is not scripture, rather it is his presumption of the doctrine of sin and the perfect standard God requires in judgment.
---
Copyright © Joshua Washington and thescripturesays, 2017. All Rights Reserved.