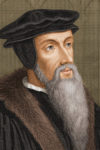 Calvin doesn't go out of his way to properly outline the content of the gospel in his Institutes. Occasionally he will give a throw away line which reveals his thoughts. Today I give one of these quotes.
This is part of my series on Calvin's Institutes.
Quote
In the same way we infer that the Old Testament was both established by the free mercy of God and confirmed by the intercession of Christ. For the preaching of the Gospel declares nothing more than that sinners, without any merit of their own, are justified by the paternal indulgence of God. It is wholly summed up in Christ. (Calvin, Instit. 2.10.4)
Comment
Calvin doesn't seem to have properly studied what the gospel is. Had he done so he would have noticed the recurring pattern of the story of Jesus in many gospel passages. I've written enough on the gospel in my page, series and church history.
We can see in this description his understanding of the gospel revolves around sin and salvation. He was one of the early soterians. Giving primary emphasis on sin and salvation rather than Jesus and his story.
---
Copyright © Joshua Washington and thescripturesays, 2017. All Rights Reserved.