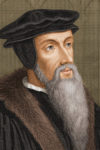 Double imputation is considered to be at the center of the 'classical' reformed understanding of justification. In today's quote Calvin says Jesus took our sins and in return we took his purity.
This is part of my series on Calvin's Institutes.
Quote
The Apostle declares this more plainly when he says, that "he made him to be sin for us, who knew no sin; that we might be made the righteousness of God in him," (2 Cor. 5:21.)

For the Son of God, though spotlessly pure, took upon him the disgrace and ignominy of our iniquities, and in return clothed us with his purity. (Calvin, Instit. 2.16.6)
Comment
This is one of a few examples where Calvin demonstrates something very like the doctrine of double imputation. There are parts of Institutes where he seems to affirm the imputation of Christ's passive obedience only. But here he includes the imputation of Christ's active obedience. Nonetheless, I don't believe it is biblical.
---
Copyright © Joshua Washington and thescripturesays, 2017. All Rights Reserved.
Save