Joseph's brothers are forced to return to Egypt again to bring food. This time they have to bring Benjamin. In today's post we see some real changes in the character of Judah.
This post is part of my bible in a year series.
Passage and Comments
The famine is severe in the land Jacob and his sons are forced to buy more food from Egypt. At this point they still don't know the person in charge they have been dealing with in Egypt is their long lost brother Joseph. When they arrive Joseph holds a feast for them and gives his closest brother Benjamin five times more than any of his other brothers (Gen 43).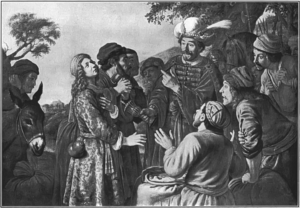 When they leave Joseph sets them up. He puts his silver cup in Benjamin's sack. After they leave he sends his servants off to find them. They discover the cup and bring them back again (Gen 44.1-13).
In today's passage Joseph initiates a crisis situation which will reveal their character.
14 When Judah and his brothers came to Joseph's house, he was still there. They fell before him to the ground.

15 Joseph said to them, "What deed is this that you have done? Do you not know that a man like me can indeed practice divination?"

16 And Judah said, "What shall we say to my lord? What shall we speak? Or how can we clear ourselves? God has found out the guilt of your servants; behold, we are my lord's servants, both we and he also in whose hand the cup has been found."

17 But he said, "Far be it from me that I should do so! Only the man in whose hand the cup was found shall be my servant. But as for you, go up in peace to your father." (Gen 44:14-17)
'God has found the guilt'. Judah is the one who takes responsibility and speaks. Interestingly he says, 'God has found out the guilt of your servants'.
God sees all our sins. He knows when we are guilty.
Probably he believes they are being punished for what they did to Joseph so many years ago (cf. 1 Tim 5.24). Joseph says they will not all be taken, only Benjamin.
18 Then Judah went up to him and said, "Oh, my lord, please let your servant speak a word in my lord's ears, and let not your anger burn against your servant, for you are like Pharaoh himself.

19 My lord asked his servants, saying, 'Have you a father, or a brother?'

20 And we said to my lord, 'We have a father, an old man, and a young brother, the child of his old age. His brother is dead, and he alone is left of his mother's children, and his father loves him.'

21 Then you said to your servants, 'Bring him down to me, that I may set my eyes on him.'

22 We said to my lord, 'The boy cannot leave his father, for if he should leave his father, his father would die.'

23 Then you said to your servants, 'Unless your youngest brother comes down with you, you shall not see my face again.'

24 "When we went back to your servant my father, we told him the words of my lord.

25 And when our father said, 'Go again, buy us a little food,'

26 we said, 'We cannot go down. If our youngest brother goes with us, then we will go down. For we cannot see the man's face unless our youngest brother is with us.'

27 Then your servant my father said to us, 'You know that my wife bore me two sons. 28 One left me, and I said, "Surely he has been torn to pieces," and I have never seen him since. 29 If you take this one also from me, and harm happens to him, you will bring down my gray hairs in evil to Sheol.' (Gen 44:18-29)
'Torn to pieces'. Judah describes the backstory of how the earlier incident with Joseph affected his father. This could not have been easy for Joseph to hear. It would have moved him greatly to know the depth of Jacob's grief for him.
30 "Now therefore, as soon as I come to your servant my father, and the boy is not with us, then, as his life is bound up in the boy's life, 31 as soon as he sees that the boy is not with us, he will die, and your servants will bring down the gray hairs of your servant our father with sorrow to Sheol. 32 For your servant became a pledge of safety for the boy to my father, saying, 'If I do not bring him back to you, then I shall bear the blame before my father all my life.'

33 Now therefore, please let your servant remain instead of the boy as a servant to my lord, and let the boy go back with his brothers. 34 For how can I go back to my father if the boy is not with me? I fear to see the evil that would find my father." (Gen 44:30–34)
'Let your servant remain'. Since Benjamin's life is now so bound up with Jacob's, Judah fears to tear them apart. He sacrifices himself to save Benjamin (the assumed guilty party) and Jacob (his loving father) by substituting himself with Benjamin. Judah could be imprisoned, tortured or killed. Courageous love.
At this point Joseph breaks down and reveals himself to his mortified brothers.
Story of Israel
Judah's offer to substitute himself for Benjamin reminds me of the Old Testament sacrifices. The notion of substitution is build into the sacrificial system. The opening chapters of Leviticus describe various sacrifices and offerings Israel was to give in worship of the LORD.
Story of Jesus
In the Gospel, Jesus also became a substitute for a sinner. His name was Barabbas.
23 But they were urgent, demanding with loud cries that he should be crucified. And their voices prevailed. 24 So Pilate decided that their demand should be granted. 25 He released the man who had been thrown into prison for insurrection and murder, for whom they asked, but he delivered Jesus over to their will. (Lk 23:23–25)
The story is told in such a way that we can imagine ourselves as Barabbas, having sinned and guilty. Jesus unlike us is without sin and is innocent. The crowd calls for Jesus to be crucified and Jesus willingly takes our place as our substitute.
---
Copyright © Joshua Washington and thescripturesays, 2015. All Rights Reserved.
Save
Save